Accounts Preferences¶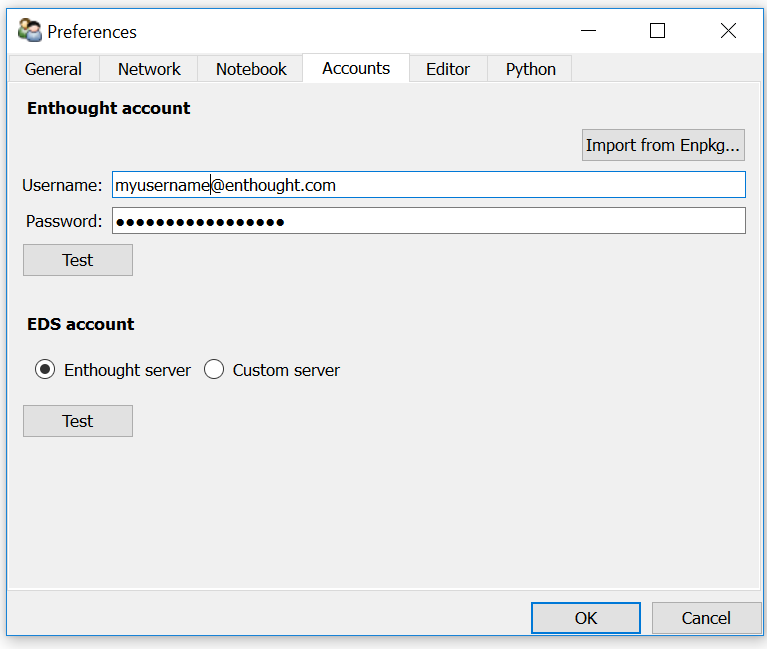 In the Accounts preferences pane, the user can provide the credentials for their Enthought and (if necessary) Enthought Deployment Server (EDS) subscription. Most individual Canopy users will not need to use this page, and can simply continue to log in on the Canopy Welcome screen as before.
Note
Please make sure that you always test your credentials before accepting the preference changes.
Enthought account¶
The Enthought account is used to contact the enthought.com servers and retrieve subscription-level information for the current user. Based on your subscription level, new features will be available/unlocked (e.g. Data Import Tool).
For details on subscription levels, please refer to Canopy's free license: What's the difference? in the Enthought Support Knowledge Base.
Note
If you change/set the credentials and accept these changes while online, Canopy will immediately attempt to log in on the Enthought servers.
Importing credentials from legacy installations¶
At first start Canopy will attempt to import credentials from legacy Enpkg-based installations (e.g. Canopy v1 and EPD) from a number of standard locations. If Canopy did not find the legacy .entaller4rc configuration file, please use the Import from Enpkg... button to manually browse to the legacy Enpkg configuration file.
Enthought Deployment Server (EDS)¶
By default Canopy is set up to use the Enthought account credentials and access the Enthought EDS server to download python runtimes and packages. However, when a custom setup is in use (e.g. a local EDS server) we need to select the Custom Server option in the EDS account section and provide the URL address and credentials for the custom EDS Server.