Deploying Python-Powered LabVIEW Applications¶
The typical workflow for developing a LabVIEW application involves running your code (and the Toolkit) on a computer with the full LabVIEW development environment installed. But not all programs have to be developed this way. LabVIEW ships with an advanced set of tools for preparing "deployable" applications, which don't require the full LabVIEW Development Environment to function.
There are two common workflows for using the Python Integration Toolkit with LabVIEW's Application Builder. They differ mainly in the way in which Python is delivered to the target system.
With simple deployment, your LabVIEW program is bundled up along with the Toolkit VIs, and deployed on a machine that already has Python installed.
With advanced deployment, your LabVIEW program is bundled up along with the Toolkit VIs and a complete, standalone copy of Python which includes all of your dependencies. This makes it easy to build single-step installers, rather than installing Python separately on the target system. A deployment tool is provided with the Toolkit which can bundle up Enthought-delivered Python packages to ship inside the installer.
See Deployment Licensing for important information about deploying apps using the Toolkit in this way.
Note
Example VIs and projects configured for Application Builder are included in the Toolkit examples (Examples) under the "deployment_simple" and "deployment_advanced" folders.
Simple deployment¶
Let's suppose we have a VI we want to package with Application Builder. It uses a Python script, compute.py, to do some simple analysis. Here's the front panel of the example VI that ships with the Toolkit: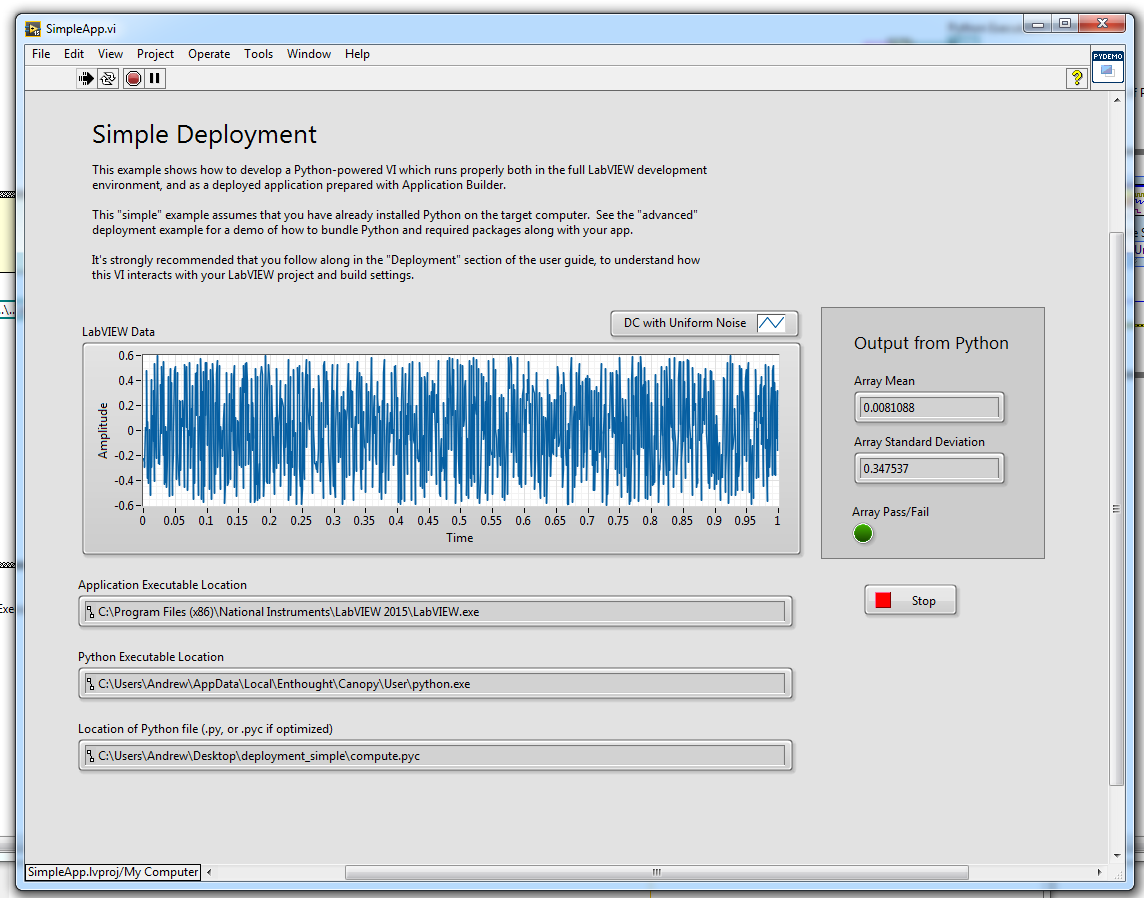 Advanced Deployment¶
The above steps work great, with the exception that Python (and all the packages) need to be separately installed on the target systems. Sometimes, this can be desireable... particularly if you have a highly customized Python installation that you want to set up in an unusual way.
For Enthought-delivered Python installations, like Enthought Canopy, the Toolkit ships with a "bundling" tool that allows you to easily pack up a stand-alone Python installation and include it in your application's installer. In other words, Python along with all required packages can be delivered to the target machine in one step.
Deployment Licensing¶
Deployed applications necessarily include parts of the Python Integration Toolkit; additionally, apps using advanced deployment include Enthought's Python distribution and a number of third-party packages. The Toolkit end user license agreement covers redistribution and deployment.
To make it easy to get started, each Standard Edition toolkit license includes 3 seats for deployment within your organization. For most individual users, and many small groups, this gives plenty of flexibility out-of-the-box. For deployment outside your organization, or for additional deployment capability in-house please contact Enthought (info@enthought.com).