Code Editor, Python Shell, and File Browser
Canopy users spend most of their GUI time in this window. You can write Python code in the Code Editor, run your code in the Python panel or experiment line-by-line using IPythons fast interactive help and discovery.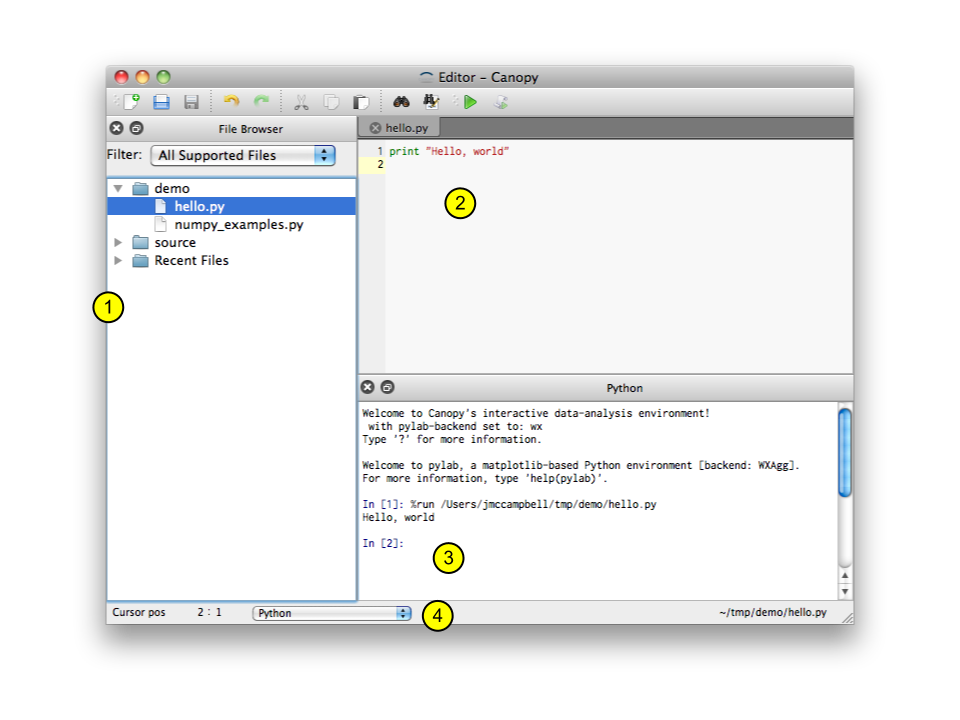 Please note these key pieces of the Code Editor (more details below):
1. File browser pane: shows one or more directories and any recently opened files. Double-click a file to open it in the Code Editor.

2. Code editor: a general purpose text-editor with additional features specifically for editing Python code.

3. Python pane: integrates an IPython (Interactive Python) prompt that lets you quickly test code, experiment with ideas, and run code directly from the editor.

4. Editor status bar: shows information about the the file currently displayed in the code editor: line and column (1 and 22, respectively, in the image above), file type, and file path and name.
The File Browser and Python panes can be dragged and dropped to different positions within a Code Editor window, or to outside its borders. When you are dragging a pane, the location where it would dock is hightlighted in blue. These panes can also be hidden using their small "X" icon, or hidden/shown from the View menu.
For information about Canopy's Graphical Debugger (not available to free Canopy Express users), see Graphical Debugger.
Code Editor Features
File browser Features
File types
By default the file browser shows all recognized source file types (Python, C/C++, FORTRAN, most web file types). This can be changed to show fewer file types or all files by using the "Filter" drop-down menu at the top of the file browser.
Top-level paths
For convenient access to your most commonly used files, the file browser is organized by Top-level Paths. Initially there is one top-level path for your OS home directory, and one for Recent Files. You can set any directory as a top-level path by browsing to it, right-clicking, and selecting Add this as top level.
Python shell Features